Hear and Now.. in Malaysia Season 2, Ep 6: From Seed to Plate pt 2
Harbir Gill
20-Feb-12 08:28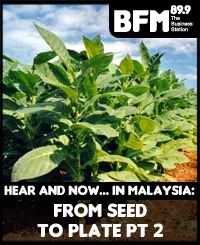 This week's episode is the second part in a two part special.
Last week our correspondent, Harbir Gill, set off on a journey in search of some of the farmers who supply some of the veggies and meats we see in supermarkets. His journey took him from Johor to Pahang and he spoke to three agribusiness owners. This week, he continues his conversations with Mr. Goh, Mr. Roe and Mr. Wong as he explores with them topics from the role government should play in agribusinesses to the challenges they face as business owners.

Produced by Handy Jobs (http://www.facebook.com/HearAndNowInMsia) in collaboration with the Economic Transformation Programme (http://etpblog.pemandu.gov.my/posts/category/hear-and-now/) and brought to you by BFM.
Tags: , Commodities, Agribusiness